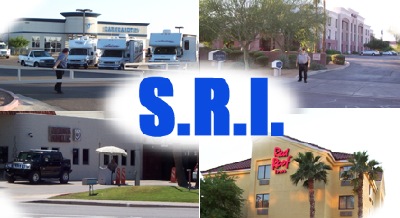 Security Response, Inc. is a Nevada Corporation founded in 1995 as an upscale security firm that serves clients in California and Arizona.

PROVEN RESULTS...

Security Response, Inc. maintains a staff of licensed security personnel professionals. Our mission is to provide the impeccable service our clients have come to expect with highly trained, paid personnel, at a fair and competitive price. Security Response, Inc. is Licensed, Bonded, and Insured to 2 Million Dollars.

Security Response, Inc. provides both uniformed and non-uniformed security personnel for Physical on site Security Guard Services, Patrol Services and Alarm Response Services, Risk Assessment and Asset Management. Security Response, Inc provides either Armed and Unarmed Security Personnel for auto dealerships, call centers, distribution centers, hotels, home builders, homeowner associations, guarded gatehouse communities, plants, office buildings, shopping centers, and warehouses, commercial properties, et al.

WHY SECURITY RESPONSE?

It is not necessary to look any further for the following reasons:

We have higher employment standards to ensure only the right individuals become Officers. We pay Higher Wages with Better Benefits, as you get what you pay for Professional Company Orientation with State Certification and Company Specific Training.

24/7 Supervision to pass along info for the officer on your property whenever you want. 24/7 Patrol Backup, in the event the officer on your property needs assistance. Each of our officers have the opportunity for additional training to include CPR/first aid, defensive tactics, handcuffs, baton and customer service quarterly training.

Security Response, Inc. has instituted very strict policy and procedures regarding the protection of our clients' property and employees. Our personnel is in constant contact with SRI 24 hour dispatch center and roving field supervisor patrol units.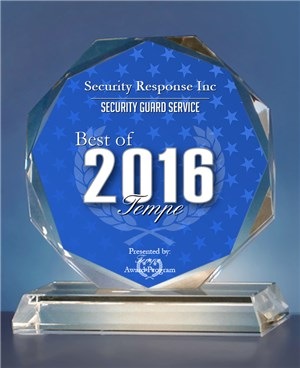 Security Response, Inc. values it's partners and customer alliances with a "can do" approach in striving to exceed their client's expectations. We are highly recommended with superb references and our client's can rest easy without any worries. Security Response, Inc. has built long lasting relationships with many Fortune 500 companies, and small businesses. Whether your needs are short or long term security services, we would be pleased to hear from you!

FIRST WEEK FREE WITH ONE YEAR CONTRACT. LIMITED TIME THRU 8/15/2020.

Security Response, Inc. relies exclusively on competent, thorough security personnel. We employ only experienced, educated professionals that have passed clean background checks by local, state and federal agencies.

Please continue to our Quote page and reply so we can begin a lasting relationship or please feel free to call us @ 1.800.999.2250.

AZ Lic #1000365

CA Lic #13726